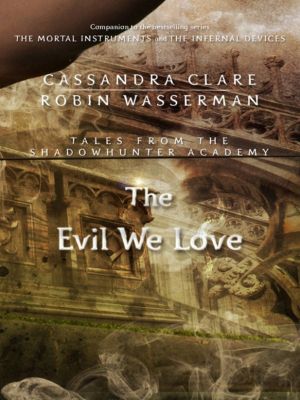 Title: The Evil We Love
Authors: Cassandra Clare & Robin Wasserman
Series: Tales from the Shadowhunter Academy
Previous Books in the Series:
1. Welcome to Shadowhunter Academy
2. The Lost Herondale
3. The Whitechapel Fiend
4. Nothing But Shadows
Date Read: August 2
Format: ebook from my iBook collection
Simon wrote a letter to Isabella and she returned it unopened. A few months later, as the students are getting ready for summer vacation (they even have summer vacation at the Academy? Really?) Isabella shows up with her father for a lecture to the students. The subject? Robert Lightwood's time in the Circle with Valentine and all the others. While Izzy is just their to cause havoc and torture Simon by flirting with his friends. But nothing compares to when she suggests that they summon a demon to bring to the end of the year party. Simon may not remember much, but he's pretty sure that she isn't like that.
I want to say that this novella was interesting and explained a lot about Robert and all the Simon/Izzy stuff gave me fluffy feels, but…. It really didn't. You do learn a lot about Robert that explains some things, like how he almost rejected his first Mark, how his parabati was in love with him, and that he was a coward in a lot of different ways, but even though I know this stuff I still can't forgive him for what he did to his wife and how he treated his son Alec. I really can't. If anything, it makes me wonder why this character was kept around and not killed off in either of the wars. As for Izzy and Simon, well, it's not where they used to be, but at least it's progress.
Final Rating: 3 out of 5 stars. The only thing that saved this one for me was the Simon and Izzy interactions.
Bookshelf worthy? Still only available electronically, and if you're a fan of Simon/Izzy then get it. If not, pass.