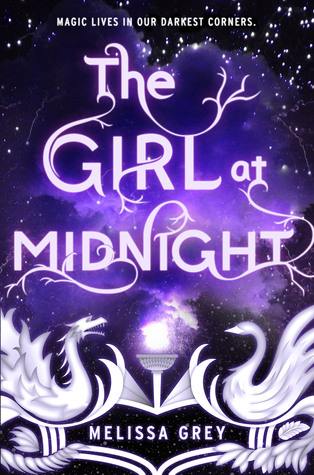 Title: The Girl at Midnight
Author: Melissa Grey
Series: The Girl at Midnight
Date Started: July 8
Date Finished: July 9
Format: Hardcover from local library
This is the story of two warring factions and how one person and a crew of misfits try to bring them to peace. On one side you have the Avicien, an ancient race of people with feathers for their hair and magic running through their veins. On the other side are the Drakharin, human like dragons. These two factions have been at war for centuries with massive body counts to show for it. In the middle we have a human girl named Echo (although that isn't her real name). She was brought into the Avicien's by the Ala when she was a small girl and has been pickpocketing for them ever since, even though some believe that she doesn't truly belong.
Everything Echo knows though is about to be supremely tested when a simple birthday gift for the Ala turns into a scavenger hunt for the legendary firebird, whose power is rumored to be able to stop the war. But she isn't the only one searching for it, Caius – the Drakharin Prince – is also on the trail, and he has his own purposes for the firebird.
So, if you go to this book's page on Goodreads you'll see a lot of conflicting reviews. Some people liked it, but didn't find it original, while others hated it. I'm in neither of these parties. I loved this book completely. Now, maybe it was because I've spent the last two weeks reading historical fiction and I was in desperate need of a change, but I found this book captivating. I loved the character of Echo who seemed really sure of herself and was full of witty comebacks, but on the inside was a little bit less sure of herself. I loved the character of Caius, who pretended to act all tough but slowly fell for Echo's charms. I spent a majority of the book rooting for the two to finally end up together (pesky Rowan) and when they finally do, I was ecstatic but at the same time disappointed that they would do it after that cataclysmic event (can you tell I'm trying not to be too spoilery?) I also really loved the minor characters too, which was really odd. I still haven't quite figured out what Dorian's all about, but I like the direction his character is heading. Ivy is the stoic friend that Echo desperately needs, and Jasper… Man, every book needs a character like him.
As for the plot, yeah the whole warring factions, forbidden romance, thing has been done before. But I don't know I don't think it's been done in quite this way. Or at least, not that I've read. The firebird angle was another interesting one, and the end point on that is actually quite surprising.
Final Rating: 5 out of 5 stars. I thoroughly enjoyed myself with this book. It's very rare for me to get so involved with a book that I get annoyed when other people try to draw me away from it. This was one of those books though. Between trying to figure out the clues to find the firebird, and laughing at the way Caius and Echo danced around each other I just didn't want to pull myself away. I can't believe I have to wait until next year for the next book! What am I going to do with myself?
Bookshelf worthy? The cover is so pretty I wish I had room for it on my shelves. Where are those winning lottery numbers?